Authorship & Interaction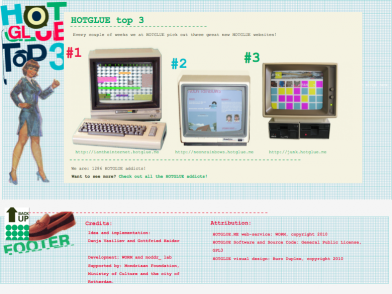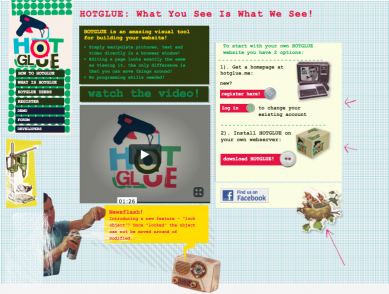 "HOTGLUE is a visual tool for creating websites directly in the web-browser. Whether you want to make a personal webpage, online gallery or a website for your band - HOTGLUE is an interesting alternative to over-complicated systems.

You will enjoy the simplicity of its interface and fast learning curve – making a website with HOTGLUE is just as easy as making a paper collage!

Once you register an account at hotglue.me you are ready for uploading your images, texts and videos! Simply drag your files into the web-browser window - it was never easier!*. Position the elements any way you like – on top of each other or inline, tiled or stretched – once you release the mouse button it is all instantly saved on the server. HOTGLUE offers several simple yet powerful tools to turn your web-browser into a web-editor!

Anyone visiting your HOTGLUE website will see it exactly the way you left it, editing looks the same as browsing, the only difference is that the visitors will not be able to change things."

The Website

Using Hotglue
The creators of Hotglue have made it extremely easy for users to use Hotglue. They have displayed it in the easiest form to understand - videos. Below I have embedded the webpage that teaches you how to Hotglue.
My Hotglue
In order to create my website for Authorship and Interaction I first wanted the website to begin with an attempt at animating the alphabets. Once a user clicks on it he is sent to the contents like page, which displays all the webpages available for users to visit.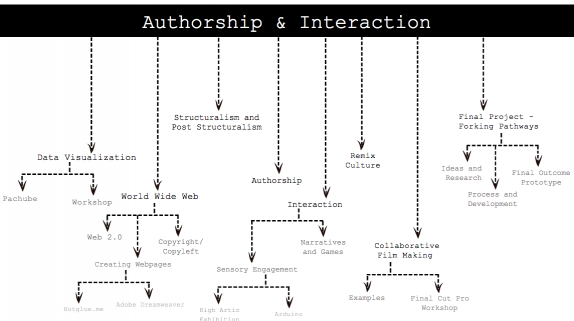 Throughout the website any Authorship & Interaction title that is written on a black background will lead the user back to this page